SR Industry, based in Ahmedabad, India, is a leading manufacturer, supplier, and exporter of a wide range of Flexible Intermediate Bulk Containers (FIBC) commonly known as Jumbo Bags. We specialize in providing high-quality FIBC bags to various industries across India and abroad.
Our FIBC bags are designed to meet the needs of various applications such as transportation, storage, and handling of dry bulk materials. We manufacture FIBC bags in various sizes and capacities ranging from 500kg to 2000kg to cater to the specific needs of their clients.
FIBC jumbo bag manufacturer in India at an affordable price
Our range of FIBC bags includes Food Grade FIBC Bags which are made from food-grade polypropylene fabric and are ideal for the storage and transportation of food products. These bags comply with the strictest food safety regulations, ensuring that the food products are stored and transported safely.
SR Industry's FIBC bags are made using high-quality raw materials and advanced technology, ensuring the bags are strong, durable, and reliable. Our bags undergo strict quality control checks at every stage of the manufacturing process to ensure that they meet the required standards.
As a leading FIBC Jumbo Bag manufacturer, supplier, and exporter in India, SR Industry has built a reputation for providing high-quality products at competitive prices. Their commitment to customer satisfaction has made them a preferred supplier for various industries in India and overseas.
In addition to manufacturing FIBC bags, SR Industry also exports their products to various countries. As a reliable exporter of FIBC Jumbo Bags in India, we ensure timely delivery of the bags to our clients worldwide.
Overall, SR Industry is committed to providing the best quality FIBC Jumbo Bags in India, catering to the specific needs of their clients, and ensuring their satisfaction with every purchase.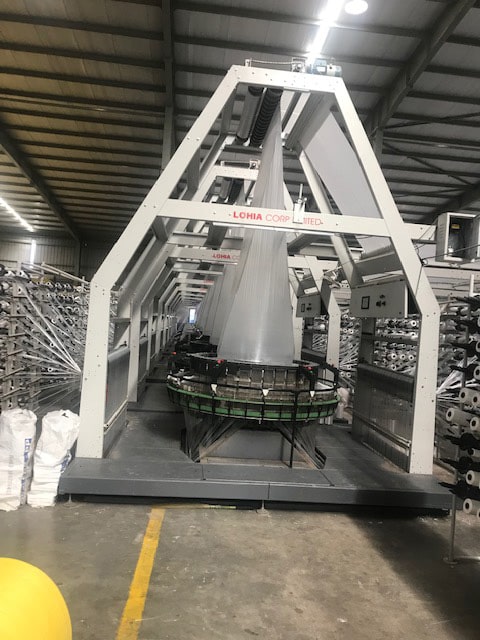 FIBC Bag — FIBC Bag Manufacturer, Supplier and Exporter in India
SR Industry, based in Ahmedabad, India, is a leading manufacturer, supplier, and exporter of FIBC bags, also known as bulk bags or jumbo bags. We specialize in providing high-quality FIBC solutions that cater to the diverse needs of industries worldwide.
As a trusted
FIBC bag manufacturer in India
, we understand the critical role of these bags play in the safe and efficient transportation and storage of bulk materials. Our FIBC bags are meticulously designed and crafted using premium-grade woven polypropylene fabric, ensuring exceptional strength, durability, and resistance to tears and punctures. They are available in various types, including standard bulk bags, conductive bags for static-sensitive materials, and UN-certified bags for hazardous materials.
At SR Industry, we offer a comprehensive range of FIBC bag options to suit different applications and requirements. Our bags come in various sizes, capacities, lifting configurations, and discharge options, allowing for easy handling and efficient loading and unloading of bulk materials. We also provide customization services to meet specific customer needs, including printing logos, labels, and handling instructions on the bags.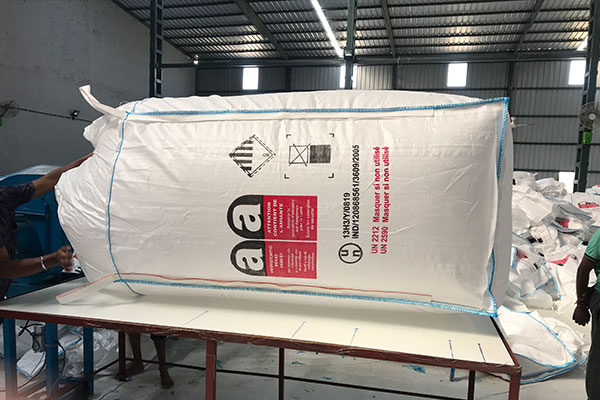 With our state-of-the-art manufacturing facility, advanced machinery, and skilled workforce, we have the production capacity to fulfil bulk orders while ensuring superior quality and quick turnaround times. Our commitment to excellence extends to our strict quality control measures at every stage of the manufacturing process.
As a reliable FIBC bag supplier and exporter, we have established a strong presence in the international market. Our bags are used across industries such as agriculture, chemicals, mining, construction, food, and pharmaceuticals. We prioritize customer satisfaction by providing prompt and efficient services, timely delivery, and competitive pricing.
Choose SR Industry as your trusted FIBC bag manufacturer, supplier, and exporter in India. Experience the reliability, durability, and performance of our FIBC bags, designed to meet your bulk material handling needs with utmost efficiency and safety.
Food Grade FIBC Manufacturer in India
Food Grade FIBC (Flexible Intermediate Bulk Containers)
are specialized packaging solutions used for storing and transporting food-grade products in measurement quantities. These containers are widely used in the food industry to transport grains, flour, sugar, spices, nuts, fruits, and other food products.
Due to the expansion of the food sector in India, there has been a steady rise in the need for FIBCs that are food-grade. As a result, a large number of producers have appeared to satisfy this demand. Yet, it is essential to pick a reputable and knowledgeable manufacturer who can offer premium food-grade FIBC that suits the unique needs of your company.
Our production plant for Food Grade FIBC Manufacturer in India is aware of the significance of offering dependable and secure packaging options for food goods. To guarantee that our FIBC satisfies the highest quality standards, we have made investments in the newest technology and machinery. We employ only the best quality raw materials in our manufacturing process, which is designed to adhere to all applicable food safety requirements.
Our food-grade FIBC are available in a range of sizes and designs, allowing our clients to choose the best option for their specific needs. Our food-grade FIBC are offered in a variety of sizes and styles, enabling our clients to select the ideal choice for their unique requirements. In order to give our customers the best packaging option for their food items, we provide both conventional and custom FIBC designs. Our FIBC are made to be strong, manageable, and economical.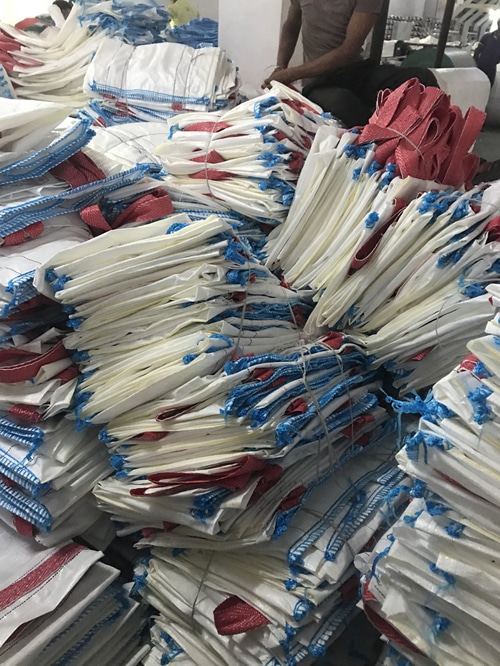 We are dedicated to giving our customers the finest service possible, and our team of professionals is always available to address any inquiries or issues. We are aware that each business has specific needs, and we collaborate closely with our customers to deliver the finest solutions.
In conclusion, if you are looking for a reliable and experienced Food Grade FIBC Manufacturer in India, look no further than us. We are the ideal partner for your food packaging needs due to our high-quality products, exceptional service, and competitive pricing.
Related Searches –
FIBC Jumbo Bags Manufacturers In India, Jumbo Bags Manufacturers In India, FIBC Jumbo Bag Exporters In India, Flexible Intermediate Bulk Container Bags, Flexible Intermediate Bulk Containers Manufacturers, FIBC Bags Exporters, Bulk Bag Manufacturer In India, Food Grade FIBC Manufacturer In India, FIBC Bag Supplier In India, FIBC Bag Manufacturers In Gujarat