We have around 20 years of experience in manufacturing of Tablet Salt / Salt pebbles / Water Softening Salt which is made with special care so it dissolved perfectly.
The modern Plant of the company is having the capacity to manufacture about 300 Tons Tablet Salt Per Month and supply to over lots Industries in so many countries like Tablet Salt, Salt Tablet in India, Salt Tablet Manufacturer India, UAE, Kuwait, Oman, Bahrain, Doha, Vietnam, Singapore, UK, Saudi Arabia, etc.
The Product is available in 25 Kg LD Heavy gauge bag. Also can pack as per buyer requirement in 10 kg Handle Bag or HDPE woven Bag ( 25 kgs / 50 kgs).
Export Sea Worthy Packing- Pallet with strip & cover with Liner & then wrapping. 1 pallet = 1250 Kg.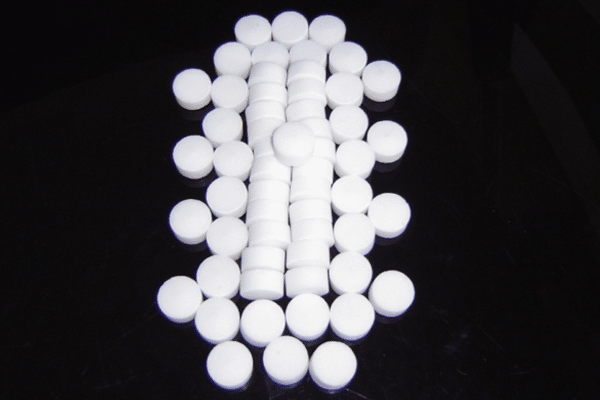 TABLET SALT (SOFTENING SALT)- SPECIFICATION
(Round Shape, Solid, White, Free From Clay, Grit Etc Impurities)
| | |
| --- | --- |
| Calcium Ca % Max. | 0.03 |
| Magnesium Mg % Max | 0.019 |
| Sulphate So4 % Max | 0.158 |
| Water Insoluble % Max | 0.05 |
| Moisture % Max | 0.15 |
| NaCI % Minimum by Mass On Dry Basis | 99.58 |
keytags:- Tablet Salt, tablet salt prices, tablet salt manufacturer india,refined salt india,gujarat, ahmedabad